SSSP Management
Using SiteConnect, you can concentrate on specific sites at a time, similar to paper systems. By doing so, SiteConnect becomes real-time SSSP Management, collecting information in real-time, storing it securely in the cloud for you to retrieve at a later date.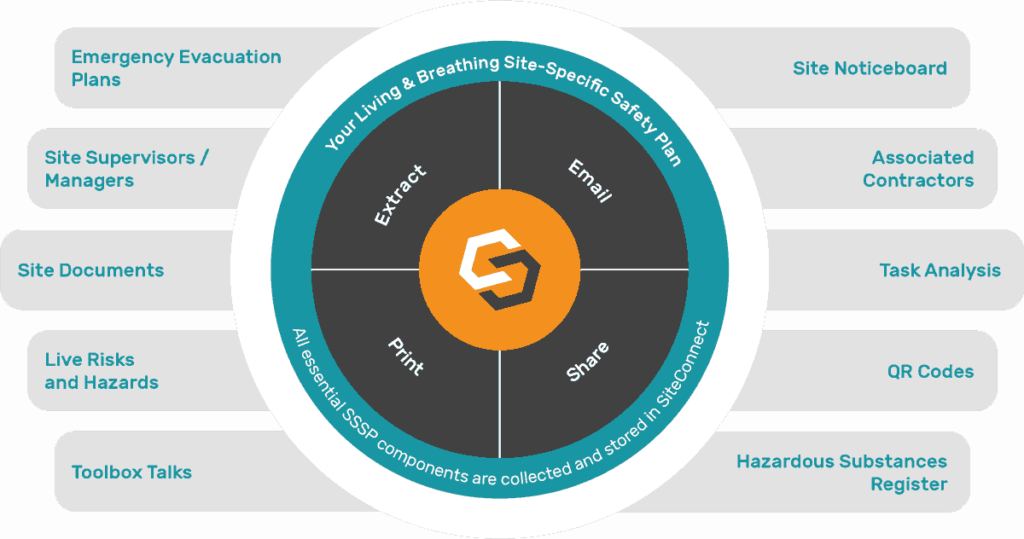 Sharing Agreements
Project Plan Agreement
Upload & Share Agreements
Upload your project plan agreement to the documents folder, which can then be shared with your connected network. Have this information to hand so everyone can access your most important documentation while out on site.
INFORMATION ALL-ACCESS Management
Task Analysis / Job Safety Analysis (JSA)
Task Analysis Form Management
Ensure that your most important Task Analysis forms are loaded into SiteConnect so that you and your team can access them wherever they may be working in a dangerous area.
Teams Have Access to all Information
SiteConnect mobile app enables team members to share task analysis information in real time, making it easy to manage high-risk tasks.
Organize MEETING NOTES
Toolbox Talks
View Your Meetings Online
A pre-start meeting and toolbox talk are standard on a construction site. Usually, these meetings aren't documented. Through SiteConnect, anyone can take a toolbox talk meeting, choose a topic, set a plan, select all attendees, and add photos to compliment the 'talk' directly from their phone. This information can then be exported out of SiteConnect to PDF, which can then be emailed or printed as needed.
VISIBILITY OF TRAINING, QUALIFICATIONS AND SITES
Training & Qualifications Register
One Source of Truth
SiteConnect gives you one source of truth over all documentations held on everyone within your connected network.
Full Visibility of Training & Qualifications
Take back control of your on-site compliance and have full visibility over what training and qualifications your employees and contractors' employees have to carry out work across your sites.
Management of Sites
Keep track of what sites your employees and contractors can access and when their documentation is about to expire. SiteConnect Total Site Messaging lets you send direct messages to others or to send mass communications.
CustomIZE Site Inductions
Hazardous Substance Register
Automate
SiteConnect replaces the Hazardous Substance folder that used to sit on the top shelf of the site office (you know the one); SiteConnects Hazardous Substance Register is easy for everyone on site to find in a hurry when responding to a first aid situation.
Automate
Like all other SiteConnect features, you can add photographs and documents to complement the information. each substance, and storage requirements.
Record all Hazardous Substances On-Site
The register is located on the mobile app's main page, and all substance templates can be created in the web portal for easy administration. Understand what substances are on your site, their risk info, additional measures taken independently of each substance, and storage requirements.
your risk register Management
Risk/Hazard Register
Document & Track Your Risks
Document and track your risks; maintaining a risk register allows you and your team to prevent incidents and near misses by following preventative controls and corrective actions.
Ease of Use
Controlling your risk register is made easier through the mobility of SiteConnects mobile app integrated with the web-portal making the management of this a breeze for your entire team.
your risk register Management
Incident & Hazard Management
Reduce Risk of Incidents
Utilizing SiteConnect's fully integrated incident and hazard system makes administering this area of health & safety easy. By managing incidents efficiently, you will save yourself time and reduce the risk of these incidents happening in the first place.
Recording Incidents or Hazards
Anyone using the SiteConnect mobile app can record an incident or hazard quickly. Once recorded, the site supervisor will be notified of the incident immediately, even if he is not present on-site. Once an incident is documented, SiteConnect has a built-in investigation system that makes it easy to follow the appropriate steps. Write an overview of what happened, calculate lost time due to injury, record the causes/corrective actions, add any witnesses, and write up your notes. Like everything else in SiteConnect, the incident feature can be exported to PDF and printed to a hard copy or emailed to appropriate parties.
Emergency Response Plans
Effective Communication
The SSSP document should be continuously updated and managed as a site matures during its construction. As part of the SSSP, emergency response plans may change during construction. By using SiteConnect's mobility and accessibility, having SiteConnect as part of your emergency response plan can be another effective way of communicating what to do when there is a crisis.
Share Emergency Contact Details
Arm your workers with the emergency contact details of key staff, nearby hospitals, and emergency crews.
Keep track of ltis
Lost Time Incidents (LTI)
Loss Time Incidents (LTI) is an integral feature of SiteConnect. You can share the health and safety program's effectiveness with business leaders by tracking these metrics. Metrics provide information on specific areas and help you direct your health & safety efforts.
Recording Details of Affected Person
Record the affected person, the health provider caring for the person, ACC case manager, the return to work process, and detailed time records; this will then give you a detailed LTI summary.