REAL-TIME INSIGHTS
Reporting & Dashboards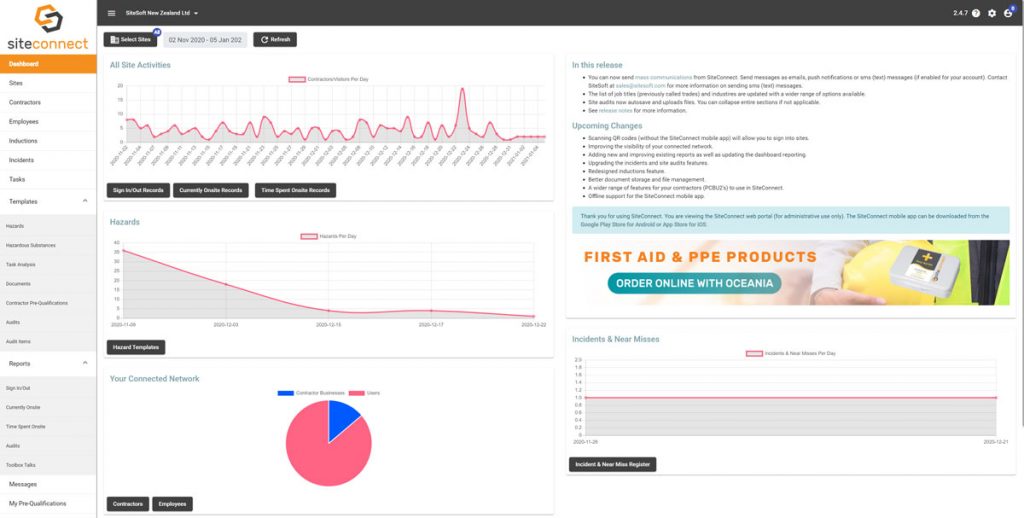 Using the SiteConnect Administrative Web Portal gives you real-time insights into your health and safety system.
We provide Account Management options and 3rd Party Integrations to ensure we can maximise every experience.
Filter by Dates & Sites
You can filter by site and date to track safety across your group or organization.
Get access to all sign-in/out records, currently onsite records, time spent on-site, and incident and near-miss records.
TOTAL CONTROL Account Management
User Administration & Account Management
SiteConnect offers easy account management giving you and your administrators total control over your Health & Safety system. Update your account, import data, and add employees and contractors.
View Important Information
View important compliance information such as acknowledge inductions and track COVID-19 Health Declaration.
Stay Compliant
Understand who in your connected network needs additional training to support your Health & Safety compliance standards.
Cloud-BASED INTEGRATIONs
Security & External Data Integrations
Security
SiteConnect provides token-based user and API access to web portals and mobile apps. Firewalls and other measures keep our servers safe. On request, we can give you more security info. Please read our Terms and Conditions and Privacy Policy for more information.
External Data Integrations
SiteConnect's API gateway lets you integrate with external system integrations. SiteConnect's mobile app lets you integrate with your core business systems to increase productivity, reduce wasted time and scale your business for future growth.
Powered by SiteConnect
BC Group Digital Log Book
SiteConnect has partnered with BC Group to create the digital log book that tracks inspection visits for Building Warrants of Fitness (BWOF). SiteConnect visit data is recorded seamlessly into BC Group's Building Warrant of Fitness management software. This removes the need for manual log books and provides a more robust compliance schedule. BC Group can handle all your warrant of fitness compliance.
Recording Details On-Site
The Digital Log Book integration with SiteConnect will record the details of the person visiting the site, note which specified system they are maintaining, capture their IQP number, and record any remedial items for any of the Specified Systems within that property.